I'm having a moment of depression.
I thought for sure Dr. Kringle would be able to pin point what my problems were, fix them, and then scoot me off to have a baby. Well, didn't turn out that way. He is at a loss and I am now scheduled for an appointment with a Fertility Clinic in November.
The clinic sent me a packet, along with a DVD, explaining the different treatments they offer, the percentages of success rates, infirtility factors, payment options, etc. etc. All of the information was overwhelming and I feel as though I'm spinning out of control with all these terms and proceedure names that I know nothing about!
As I flipped through the folder in a daze I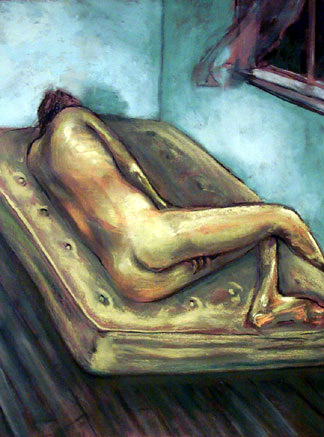 suddenly burst into tears as I read the definition of infertility: The inability to conceive after one year of regular unprotected intercourse. (Its been over 6 years for us) It was official... I'm Infertile. I cried as I thought about everyone I know who has had children without even thinking about it. I never felt so inferior. I got angry at Becca all over again as I thought about her holding that little girl at the fair....and here I am getting poked and prodded and jabbed and medicated and injected and x-rayed and peered into and put under and punctured and cut up and sewn up and shuffled along to the next doctor to do more of the same. I got even angrier when I thought of how she could have her own biological children if she wanted to... and here she is trying to adopt this little girl for her own instead of trying to help me like the original plan. It fuckin' sucks!!!!!!!!!! Damn it, I'm STILL angry about it!!!! (but I will continue to keep my cool....even though I wanna scratch her eyes out. She is still trying to help us with adoption... I hope.) Her words still ring in my ears, "I think I would like to adopt some day... but if something comes up, I'd definitely want any child to go to a couple first." FUCK!
Sometimes I just wanna have a good cry. Sometimes that cry comes at odd times... like after sex. Luckily Ethan didn't see the tears coming down my cheeks after we did it the day I opened the packet. Yes, the sex was good... but I'm damaged goods. I really felt it then.
I don't wanna have to wait until November to see what the next step is. I don't wanna have to go to this clinic. I don't wanna learn about their treatment options. I don't wanna worry about whether or not my insurance will cover this place. I don't wanna give my arm up for more bloodwork. I don't wanna have my abdomen pressed by cold hands again. I don't wanna wear a backless hospital gown and sit on a waiting table again. I don't wanna fill out more forms. I don't wanna call my health insurance company again. I don't wanna get more bills in the mail.
I just want to have a baby like a normal person would GOD DAMN IT!
Fuck you God.